United States of America

---

---

---

---

---

---

---
Cities
Regions
Massachusetts Travel Guide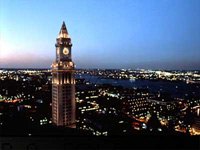 US Customs House Tower, Boston © Boston Tourist Board
The arrival of the earliest pioneers near Salem in 1630 was the shaping of Massachusetts as a state. Puritans arriving from an England threatened with civil war came to set up a new colony, intended to be an example to the world of a perfect human society, with rigid Protestant discipline and a devout way of life. This was the beginning of New England and today it is made up of six states including Massachusetts.
Boston has been the hub of the state since colonial times. The state capital is full of history that can be traced through walking attractions like the Freedom Trail and the Black Heritage Trail. Boston also boasts a wealth of culture thanks to the prestigious presence of Harvard University and the Massachusetts Institute of Technology in Cambridge. To the east lie the beaches of the Cape Cod Peninsula as well as the islands of Martha's Vineyard and Nantucket that together form the region's most popular holiday destination, with historic towns and plenty of walking and cycling opportunities.
Inland Massachusetts is much quieter, with settlements having formed around the fertile river valleys and in the Berkshire Hills to the west. Development of the Berkshires began with the construction of the railway from New York and Boston and it became a favourite summer retreat for wealthy city folk as well as attracting artists and writers. The region is now most famous for its vibrant summer music, dance and theatre festivals, particularly the Boston Symphony Orchestra that has its home in the huge Tanglewood Estate in Lenox.
Become our Massachusetts Travel Expert
We are looking for contributors for our Massachusetts travel guide. If you are a local, a regular traveller to Massachusetts or a travel professional with time to contribute and answer occasional forum questions, please contact us.