United States of America

---

---

---

---

---

---

---
Cities
Michigan Travel Guide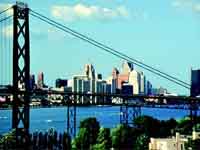 Ambassador Bridge, Detroit ©
The northern state of Michigan consists of two peninsulas that extend into the Great Lakes, actually touching four out of five of the magnificent bodies of water that contain 80 percent of the United States' fresh water. Michigan's Lower and Upper Peninsulas are divided by Lake Michigan and linked by one of the longest suspension bridges in the world, stretching across the Straits of Mackinac. The long freshwater shoreline, extending for 3,000 miles (4,828km), is also made up of Lake Superior, Lake Huron and Lake Erie. In Michigan you're never more than six miles (10km) from a river or stream, and never more than 85 miles (137km) from one of the Great Lakes. Most of the state is well forested, with the Upper Peninsula home to a variety of wildlife, and boasting trout fishing lodges and winter ski resorts. The southern part of the Lower Peninsula is mainly characterised by rural farmlands and industrialisation, but the west coast offers several popular beach resorts.
With all this water and forest, hunting and fishing are major drawcards for sportsmen in Michigan, but the other main attraction in the state is its large industrial city, Detroit, birthplace of the motor car: the city that put the world on wheels. The legendary names of the original automobile manufacturers like Ford and Chevrolet still resound loudly in Detroit, which offers numerous institutions and attractions paying homage to the car.
Despite being the spot where the development of Michigan began back in 1701, when it was founded as a trading post, Detroit is not the capital. The attractive Victorian State Capitol stands in Lansing, chosen in 1879 for its location in the centre of the Lower Peninsula, which made it less vulnerable to invasion by British forces from Canada. Back then Lansing was but a sawmill settlement, but today it is home to about 130,000 residents and vies with Detroit as a major motor manufacturing centre.
Become our Michigan Travel Expert
We are looking for contributors for our Michigan travel guide. If you are a local, a regular traveller to Michigan or a travel professional with time to contribute and answer occasional forum questions, please contact us.