United States of America

---

---

---

---

---

---

---
Cities
Ski Resorts

---
Montana Travel Guide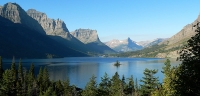 St. Mary Lake, Montana © Ken Thomas
The wide open US state of Montana, bordering three Canadian provinces, boasts no major big cities, but is the fourth largest state in the Union, stretching across the prairie of the Great Plains, known as 'Big Sky Country'.
Despite the seemingly never-ending expanse of open plains, 'Montana' is Spanish for mountains, and indeed the State is usually regarded as mountainous because the Rocky Mountain chain traverses its western zone. Sixty percent of the state, though, is prairie. Agricultural lands provide Montana's bread and butter, and some of the USA's most attractive and renowned national parks, wildlife refuges and forests provide a tasty topping.
Montana is home to the renowned Yellowstone National Park, Glacier National Park and Bighorn Canyon, to name just a few natural attractions under the big sky. Yellowstone, with more than two million acres of geysers, is among the largest and most famous national park in the world, spilling over into Idaho and Wyoming, while the magnificent Glacier park covers one million acres of rugged mountain terrain, forests, waterfalls and glaciers.
Montana is thus an outdoor enthusiast's paradise, with a multitude of opportunities for hiking, riding, hunting, and fishing in summer, and skiing in winter. Native American culture also features high on its list of attractions, the prairies having been home to legendary tribes like the Cheyenne, Crow and Blackfeet. The various reservations are strongholds of their heritage where traditional dress is worn, rituals are performed and arts and crafts produced. Also fascinating for visitors is to explore the 'ghost towns' that were left behind after the 1862 gold rush, the many museums and art galleries, and the historic buildings and battlefields of this multi-faceted state.
Though most of the state is undeveloped, there are a few towns in Montana worth visiting: Billings, conveniently located near Yellowstone, is a hub of arts and culture; Butte is a former mining town with several museums dedicated to the industry; while Bozeman is a college town with some good museums and art galleries, and hosts the Sweet Pea Festival each spring.
Become our Montana Travel Expert
We are looking for contributors for our Montana travel guide. If you are a local, a regular traveller to Montana or a travel professional with time to contribute and answer occasional forum questions, please contact us.