United States of America

---

---

---

---

---

---

---
Cities
Regions
Nevada Travel Guide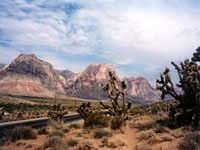 Joshua Trees, Nevada landscape © Judith Duk
For the millions passing through on their way to California, their image of Nevada is of long, empty roads and dusty ghost towns, often little more than a gas station and 24-hour store with a few slot machines in the corner. Lacking any natural assets, it is fortunate that 'Lady Luck' descended on this state to give hundreds of thousands of people a man-made reason for visiting. This is casino country, centred on the capital of kitsch, Las Vegas, and the other smaller towns where the main income earner is gambling.
Carson, the sleepy state capital, has tree-lined streets and some handsome old buildings and hosts the Nevada State Museum, which covers the geology and natural history of the Great Basin desert: enough distraction for a few hours - but not much more. Reno is a smaller and less glitzy version of Las Vegas, packed with casinos and pawnshops, and has easy access to Lake Tahoe, over the border in California.
Situated east of California, Nevada is split up into territories such as Cowboy Country, Pioneer Territory and Pony Express Territory. This is the great American marketing machine putting a gloss on the fact that the majority of the state is a fairly desolate desert only capable of supporting snakes, lizards and cacti. The better land is used for grazing hardy cattle, while the least forgiving is used by the military for testing nefarious weapons like stealth fighter bombers and atomic bombs.
The state does have a few scenic attractions of interest to visitors. Around Las Vegas, Lake Mead is popular with fishermen and water sports enthusiasts, while both the Red Rock Canyon and the Valley of Fire State Park have magnificent desert scenery, which has been used as the backdrop for many famous movies including Star Trek - The Next Generation. The sandstone has been eroded into wonderful shapes over millions of years and at sunset these great natural monuments turn every shade of red.
Become our Nevada Travel Expert
We are looking for contributors for our Nevada travel guide. If you are a local, a regular traveller to Nevada or a travel professional with time to contribute and answer occasional forum questions, please contact us.