United States of America

---

---

---

---

---

---

---
Regions
North Dakota Travel Guide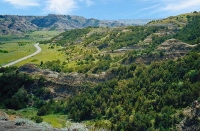 Theodore Roosevelt National Park © Michael Oswald
North Dakota has been described as legendary, with a captivating history featuring some of America's greatest leaders, adventurers and warriors. At its many preserved historic forts, visitors can discover the stories of Native Americans, led by Sitting Bull, fighting to preserve the plains culture, as well as of the soldiers who manned these lonely outposts. History buffs can retrace Lewis and Clark's journey along the Missouri River, beginning at Fort Mandan, where their expedition acquired as a member one of the most famous North Dakotans, Sakakawea (or Sacagawea). Today, North Dakota has one of the highest populations of Native Americans in the country. Their reservations are rich cultural destinations, where traditional powwows are held throughout the year.
North Dakota's heritage also encompasses the traditions of Scandinavia and Germany, the homelands of many of the state's original pioneers. Many local festivals celebrate these cultures. These immigrants were lured here, no doubt, by the same vista that tempts today's athletes and outdoorsmen. North Dakota's pristine land, under an empty sky, seems to stretch toward infinity. One of the best places to experience the state's natural beauty is in the Badlands of the Theodore Roosevelt National Park, in western North Dakota. Roosevelt was a rancher here for a time, and his memories of North Dakota would later fuel his passion for conservation. Visitors to the stark cliffs and buttes of the Badlands can camp, view species like bison and elk or bike the Maah Daah Hey Trail. Lake Sakajawea is another scenic spot, so expansive it can accommodate sailors as well as avid sport fishermen. Winters this far north can seem formidable, but North Dakota lightly blanketed by pure-white snow is stunning, and the snowshoeing, snowmobiling, cross-country skiing and ice fishing is unparalleled. In the summer, the 2,339-acre (946 ha) International Peace Garden is a serene place to visit. Situated on the world's longest unfortified border between the United States and Canada, it is a symbol of peace and friendship.
Though many may be surprised to hear it, North Dakota does have more to offer than history and the great outdoors. The Indian reservations, reservoirs of cultural knowledge, are also home to a number of glitzy casinos. Fargo and Grand Forks are college towns, complete with arts scenes, bars and clubs and, in the case of Grand Forks, the University of North Dakota Fighting Sioux ice hockey team, the state's major sports competitor. North Dakota's most unusual, though perhaps most impressive, attraction seems impossible to categorize. The Enchanted Highway is a 32-mile (52km) stretch of lonely road, along which the world's largest metal sculptures have been erected, capturing the surprising quirks waiting to charm visitors to North Dakota.
Become our North Dakota Travel Expert
We are looking for contributors for our North Dakota travel guide. If you are a local, a regular traveller to North Dakota or a travel professional with time to contribute and answer occasional forum questions, please contact us.