Cities
Nova Scotia Travel Guide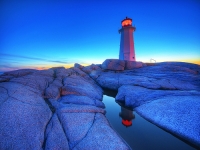 Nova Scotia © paul bica
Nova Scotia is a 350-mile (560km) peninsula on the east of Canada, connected to the mainland by a narrow isthmus. The rugged and jagged coastline, and the fact that this semi-island is covered in numerous rivers and lakes, makes it a watery wonderland famous for its seafood (the province is the world's largest exporter of lobster), scenic routes, wilderness trails, dolphin, and whale-watching opportunities.
The island has a mixed history as a French, Scottish, and British colony, but it is the Scots who have most influenced the culture, with even the name Nova Scotia meaning 'New Scotland' in Latin. Indeed, there is also a certain Scottish flavour to its bars and restaurants. The Mi'kmaq Nation is also local to the area, bringing its own cultural flavour.
Nova Scotia, together with its neighbouring provinces of New Brunswick and Prince Edward Island, are known as the Maritime Provinces of Canada. Nowhere in Nova Scotia is further than 35 miles (56km) from the sea, and the busy port of Halifax attracts more than 200,000 cruise ship passengers every year. The relatively small spit of land supports a vibrant musical culture, which includes the only symphony orchestra in Atlantic Canada, and a rich tradition of Scottish and Irish music.
The warm summers in Nova Scotia make it ideal for a range of outdoor activities, such as golf, sailing, zip lining, hiking, cycling, fishing, swimming, and horseback riding. The winters are cold, and offer other pastimes like cross-country skiing and snowmobiling.
Become our Nova Scotia Travel Expert
We are looking for contributors for our Nova Scotia travel guide. If you are a local, a regular traveller to Nova Scotia or a travel professional with time to contribute and answer occasional forum questions, please contact us.