United States of America

---

---

---

---

---

---

---
Cities
Regions
Ohio Travel Guide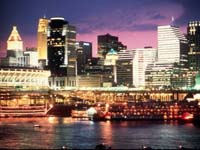 Cincinnati skyline ©
Located to the south of Lake Erie, Ohio is the easternmost of the Great Lake states and one of the most industrialised regions in the country. Railroads, the Ohio River and the ports on Lake Erie, as well as the construction of the Erie-Ohio Canal linking the two waterways, aided the state's development as a major manufacturing centre, combined with abundant natural resources that enabled its cities to become important centres of industry. However most of the industry is clustered around the Ohio River to the east.
Ohio's proficiency as a manufacturing hub continues today, but cities like Cincinnati and Cleveland have undergone a major rejuvenation and are surprisingly attractive, having successfully managed to exchange factories and warehouses for gleaming downtown centres. Cincinnati offers a variety of museums, galleries, fine dining and shopping, while Cleveland's Rock and Roll Hall of Fame is a major, internationally-acclaimed attraction. Fascinating neighbourhoods, miles of parklands and a revitalised lakefront image are drawing visitors to this city on the shores of Lake Erie. The state capital of Columbus is the main hub of education, research and commerce and is a lively college city with fine architecture and several interesting museums.
Although dominated by its three main cities, the most visited destinations in the state are the sandy shores of the Lake Erie Islands with a wide range of recreational activities including boating, fishing, swimming, as well as numerous historical sites and nature areas.
Despite its association with industry and pollution, the state of Ohio is mostly covered in fertile farmland, and the northeast is home to the world's largest Amish population, a decidedly old-fashioned community who sell their freshly grown produce along with traditional handmade crafts in the small town country shops. To the south lies Ohio's outback, a less populated region that is heavily forested and can best be experienced in Wayne National Forest.
Become our Ohio Travel Expert
We are looking for contributors for our Ohio travel guide. If you are a local, a regular traveller to Ohio or a travel professional with time to contribute and answer occasional forum questions, please contact us.