United States of America

---

---

---

---

---

---

---
Cities
Regions
Oklahoma Travel Guide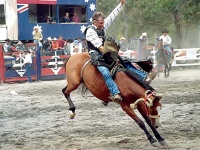 Rodeo riding! © stevebrownd50
For some Americans, Oklahoma is that state of indeterminate location and character. Though often considered part of the Southwest, even this point is up for debate. It lacks the rugged canyons and pastel skies of New Mexico or Arizona. Yet Oklahoma's identity is distinct and very much a legacy of the Old West. Its vast rolling plains marked the end of the Trail of Tears, when the Cherokee, along with many other Native American peoples, were removed from lands to the east. This new Indian Territory proved too attractive to settlers, however, and the government held a series of 'land runs' for pioneers to stake their claims.

The movie Far and Away depicts one of these mad dashes for property, when cities of thousands sprung up overnight, including Oklahoma City, now the capital. The Native Americans fought further expansion, and today Oklahoma has the second largest Indian population in the United States, providing visitors with rich cultural experiences like powwows, craft festivals and traditional storytelling. Events also pay homage to the cowboys of history, with more than 100 rodeos taking place in Oklahoma each year in which modern-day cowboys compete in calf-roping, steer-wrestling and bull-riding events. The state also has a strong African-American heritage. Many blacks headed to Oklahoma to escape slavery and oppression and formed all-black communities. The few that remain today, like Langston, still host cultural celebrations.
The flat, fertile land of the central region is only one part of Oklahoma's diverse terrain. In the east, the prairies give way to rugged mountains and dense forests. This region, today a favourite of rappellers, hikers and equestrians, was once a favourite of outlaws as well. Robbers Cave State Park served as a hideout for such notorious fugitives as Jesse James and Belle Starr. The Broken Bow area is also popular with outdoorsmen. Its fly-fishing and boating opportunities make it a top holiday spot. In the north, the grasslands shift again into one of Oklahoma's most intriguing natural wonders, the Great Salt Plains, literally an 8,690-acre sea of salt, and in the west lie the Beaver Dunes, where adventurous visitors can rev up dune buggies or ATVs and race down sandy slopes.
It may be hard not to assume that the farm-life images of the musical Oklahoma are true for the entire state. However, while Oklahoma as a whole tends to be conservative and inspires nostalgia for a slower pace and simpler life, sophistication is not precluded. The vision and sensitivity with which the Oklahoma City National Memorial and Museum were established, in honour of those who died in the 1995 bombing, attest to this. So do the state's well-preserved architectural gems, remnants of the Oklahoma oil boom of the 1920s and 1930s, which include the Price Tower Arts Center in Bartlesville, the only completed skyscraper designed by Frank Lloyd Wright, and the Art Deco buildings of Tulsa. Finally, there is historic Route 66, not exactly sophisticated, but not farmland either. Visitors in search of travel kitsch will find landmarks in roadside architecture, including the Blue Whale and Totem Pole Park, on this original highway to the West.
Become our Oklahoma Travel Expert
We are looking for contributors for our Oklahoma travel guide. If you are a local, a regular traveller to Oklahoma or a travel professional with time to contribute and answer occasional forum questions, please contact us.