Regions
Ontario Travel Guide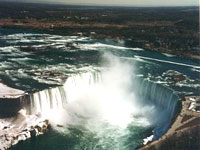 Niagara Falls © Judith Duk
Ontario is Canada's most varied province with its large southern cities, tranquil farm country and wild remote northern areas where polar bears outnumber humans. It is in the eastern central area of the country, bordered by Manitoba and Quebec, bounded in the north by James and Hudson Bay, and bordering on the United States in the south. Ontario hosts the capital city of Canada, Ottawa, but also has Canada's largest city, Toronto, within its borders.
The province has a wealth of water, being the site of four of the five 'Great Lakes' of North America, as well as the mighty St Lawrence and Ottawa Rivers and about 200,000 inland lakes. Last, but by no means least, in the far south is the most famous water spectacle of all, Niagara Falls. Ontario is home to one third of Canada's population and has amassed great wealth from its mineral resources, heavy industrialisation, forestry, agriculture and fishing.
Become our Ontario Travel Expert
We are looking for contributors for our Ontario travel guide. If you are a local, a regular traveller to Ontario or a travel professional with time to contribute and answer occasional forum questions, please contact us.