United States of America

---

---

---

---

---

---

---
Cities
Pennsylvania Travel Guide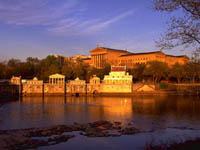 Philadelphia Museum © Pennsylvania Tourism
One of the original 13 colonies to be settled in the United States, Pennsylvania was founded by an English Quaker, William Penn, in the 17th century, giving the state its name, which literally means Penn's Woods. There are certainly woods in Pennsylvania, particularly in the Allegheny National Forest in the north, but also a great deal more besides in this diverse state, which spans more than 300 miles (483km) from Delaware Bay to the Great Lakes.
Above all else Pennsylvania is probably the most historically significant state in the nation, particularly its main population hub, the eastern seaboard city of Philadelphia, where America's founding fathers shaped the nation after Independence. The Liberty Bell seldom tolls today, but it draws millions of visitors annually to the city's Historic Independence National Park.
The other main metropolis is Pittsburgh, on the western side of the state, where the smoke-belching steel mills of the early 20th century have given way to urban redevelopment highlighting the region's natural beauty.
In between its two major cities, Pennsylvania, bounded by six other states (New York, New Jersey, Delaware, Maryland, West Virginia and Ohio), offers everything from honeymoon retreats, family resorts, ski lodges, an eclectic mix of architecture, scrumptious home-style fare, historic treasures, panoramic cityscapes, pastoral beauty, artists' colonies and country inns. Whatever a visitor wants out of a sojourn in this state, he or she is bound to find. Even chocolate lovers will discover paradise here, for this is the location of Hershey, home of the world-famous Hershey Bar, which offers up its favourite Chocolate World attraction for the tasting.
State capital is the city of Harrisburg in the north, with its exceptionally handsome capitol building and impressive State Museum, covering Pennsylvania's 300-year history, and the National Civil War Museum which focuses on the human side of the conflict.
Become our Pennsylvania Travel Expert
We are looking for contributors for our Pennsylvania travel guide. If you are a local, a regular traveller to Pennsylvania or a travel professional with time to contribute and answer occasional forum questions, please contact us.