Regions
Prince Edward Island Travel Guide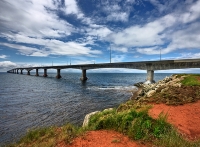 Confederation Bridge © Nicolas Raymond
Known as the birthplace of the Canadian Confederation and often referred to as the 'Garden of the Gulf', Prince Edward Island is situated on the east coast of Canada and is by far the country's smallest province. Next to agriculture, tourism is the province's largest industry and visitors flock to visit the home of Anne of Green Gables, the beloved novel by Lucy Maude Montgomery which was inspired by the island's landscape and people. One of the world's longest continuous multi-span bridges, the Confederation Bridge, connects Prince Edward Island to the mainland at New Brunswick. Stretching over shimmering ocean, it is a spectacular point of arrival, although many still prefer to reach the island by ferry, which allows for a more leisurely approach.
With its distinctive red soil and diverse landscape, Prince Edward Island is a beautiful and captivating place. The island's original inhabitants were the Mi'kmaq, who called it Abegweit, poetically translated as 'Cradle on the Waves', though literally meaning 'lying down flat,' reflecting the island's shape. European discovery occurred in 1534, but no colony was established until French occupation in 1719. Previously expelled from British-run Nova Scotia, the island's French Acadian colony was again displaced when the British seized possession in the mid-1700s, renaming it St John's Island, then later Prince Edward Island. Very little settlement occurred until land was auctioned off to British nobility and settlers were then recruited by landowners to clear forest under a controversial feudal system. Remnants of this fascinating First Nations, Acadian and British history can still be found and islanders are fiercely proud of their heritage and extensive genealogies.
In 1864, Prince Edward Island's charming and compact capital city, Charlottetown, played host to the Charlottetown Conference, where the notion of a united Confederation of Canada was born. Interestingly Prince Edward Island itself rejected the terms of union and only joined much later. Nowadays, Charlottetown proudly lays claim to its heritage as the birthplace of the Confederation and some of its top attractions include Founders Hall, the Confederation Centre of the Arts, and Province House (the second oldest active Canadian legislature) with its fully restored Confederation Chamber. The city also has plenty of other attractions and visitors can enjoy a stroll along the historic waterfront boardwalks, shop or dine at Peake's Wharf, or enjoy a walking tour with historic re-enactment group, the Confederation Players.
There is plenty to do on the rest of the island, from deep-sea fishing and windsurfing to golf, skiing and cycling. The north shore has a number of beautiful unspoiled beaches, including Brackley Beach and Cavendish, which are both located in Prince Edward Island National Park. For those a little less active, there are scenic drives, intriguing museums to visit, and plenty of fine dining. A particular delicacy is the island's famous shellfish, celebrated at the International Shellfish Festival in the Charlottetown Waterfront each September.
Rolling farmland contrasts with sand dunes and sandstone cliffs, while sandy beaches compete with evergreen forests and saltwater marshes - there is always something new to explore. Although locals refer to those not born and bred on Prince Edward Island as being 'from away', they are always happy to welcome visitors to their picturesque province with a smile.
Become our Prince Edward Island Travel Expert
We are looking for contributors for our Prince Edward Island travel guide. If you are a local, a regular traveller to Prince Edward Island or a travel professional with time to contribute and answer occasional forum questions, please contact us.