Cities
Saint John Port of Call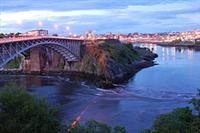 Montréal architectural style © Tourisme Montréal, Stéphan Poulin
The largest port city in New Brunswick, tucked safely into the Gulf of Fundy, is one of the oldest cities in Canada and today blends the historic charm of old architecture with its modern role as a major commercial port.
The town's old architecture is pleasant to stroll through and there are several quirky yet popular attractions including a river that's water changes directions, and a farmers market building that looks like a big ship.
Cruise liners dock at the Pugsley A/B dock which is the fourth most visited Canadian cruise port. The A/B dock is beside a new cruise terminal welcomes its first passengers on June 9th 2009. The cruise terminal opens to downtown Saint John, within an easy walking distance of almost all the city's attractions except the river.
---
Contact
Tel: +1 (506) 636-4869
www.sjport.com
port@sjport.com
The port office can be found in the new terminal building
Transport
Almost everything except the Saint John River are easily walked to. The town can easily be seen on foot although guided tours can be enjoyed from horse-drawn carriages stationed at the cruise terminal. Waiting taxis inside the cruise terminal gates are also available.
Attractions
Incredibly, the tides raise and lower 48 feet every day, which is a sight in itself and also has the effect of pushing water back up the Saint John River. Downtown monopolises the city's other attractions including a ship's hull shaped roof over the country's oldest continuing farmers market, a great local brewery removed , and the historic Fort LaTour, Forte Howe and Carleton Martello Tower.
Restaurants
Billy's Seafood Company - Well regarded seafood in the City Market
Steamer's Lobster Co. - Lobster cookouts near the waterfront
Grannan's Seafood - Family dining in Market Square
Best Dish
Steamed lobster
Shopping
Saint John City Market is the country's oldest continuing farmers market, selling great food and also local crafts. Market Square sells similar goods, as well as more upmarket items. Also in Uptown Saint John is the Brunswick Square Shopping Centre, which offers a collection of 60 well known retail stores and locally owned shops.
Best Buy
Moosehead beer
Excursions
Drive through scenic Irving Nature Park
Play in the tidal pools in New River Beach
Sunbathe on sandy Mispec Beach
Golf in Rockwood Park
Kayak in the Bay of Fundy
---
Become our Quebec Travel Expert
We are looking for contributors for our Quebec travel guide. If you are a local, a regular traveller to Quebec or a travel professional with time to contribute and answer occasional forum questions, please contact us.