Cities
Saskatchewan Travel Guide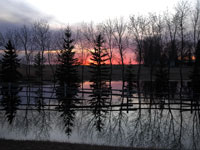 Saskatchewan in spring © Jeff
Boasting some of the most breathtakingly beautiful scenery in Canada, Saskatchewan is a paradise for lovers of the great outdoors and eco-tourists, featuring everything from world-class fishing, kayaking and hiking to hunting, horseback riding and wildlife spotting in the wilderness.
Saskatchewan's capital and second largest city, Regina, is the original headquarters and birthplace of the famous Royal North-West Mounted Police, or 'mounties' as they are affectionately known. Saskatchewan is made up of prairie in the south, while the north comprises boreal forest, rolling hills and the majority of the province's 100,000 lakes.
Discovered by Henry Kelsey, a British fur trader, in 1690, and boasting a rich Scottish heritage and even a provincial tartan, Saskatchewan proudly displays its history including indigenous North American Indians, such as the Sioux, Saulteaux, Athabaskan and Cree tribes, in the 250 or so museums dotted throughout the province. There are also cultural landmarks and more urban things to do in the city of Saskatoon, which is a centre of nearly 250,000 people.
The Cypress Hills Interprovincial Park, as well as the centre at Batoche, scene of the North-West Rebellion's Battle of Batoche, remain a couple of the top tourist attractions. However, most who choose to visit Saskatchewan come here to get away from it all and enjoy the wilderness, clear skies, wildlife, and peace and quiet. The memories of a visit to Saskatchewan are ones that will last a lifetime.
Travellers must come prepared for the climate, however, as Saskatchewan experiences both some of the highest and lowest recorded temperatures in Canada. Northern Saskatchewan has a subarctic climate. Temperatures range from highs of 79°F (26°C) in the summer to an average of 0°F (-18°C) in the winter.
Become our Saskatchewan Travel Expert
We are looking for contributors for our Saskatchewan travel guide. If you are a local, a regular traveller to Saskatchewan or a travel professional with time to contribute and answer occasional forum questions, please contact us.