Regions

show more Regions
Scotland Travel Guide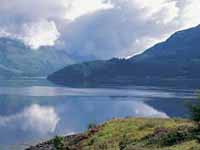 Loch Leven © Scottish Tourist Board
Scotland is a wild and untamed country, stretching from rolling farmlands in the south and east to the dramatic highlands and islands in the west, where the craggy coastline is pocked with beautiful beaches and rises up to rugged, empty mountains divided only by shimmering lochs and deep rivers. This ancient land has a brutal history and is studded with ancient castles and strongholds.
Although still part of the United Kingdom, the Scots are a fiercely independent and proud nation. They are, at the moment, agitating to gain political independence from the UK by 2014. They have their own legal system and more recently have their own parliament, and are developing into an economic force in their own right - Aberdeen is the hub of the North Sea oil industry, and Edinburgh is now home to Europe's largest bank.
Scotland is the home of golf and whiskey, and has a cultural heritage stretching from the festivities of the clans, to the poetry of Robert Burns. Scotland's rich traditions can be best seen over the summer months at the cutting-edge Edinburgh Arts Festival or at one of the many, more low-key Highland Games events.
A land of unparalleled raw natural beauty, outdoor and wilderness enthusiasts will delight in Scotland's open spaces and its excellently-managed national parks.
Become our Scotland Travel Expert
We are looking for contributors for our Scotland travel guide. If you are a local, a regular traveller to Scotland or a travel professional with time to contribute and answer occasional forum questions, please contact us.
iExplore designs made-to-order, privately-guided adventure tours to Scotland and over 200 other world wonders. Come Back Different!
ADVERTISEMENT
---