United States of America

---

---

---

---

---

---

---
Cities
Regions
South Carolina Travel Guide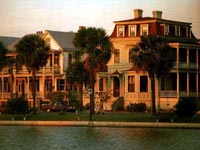 Charleston © South Carolina Tourism
The small state of South Carolina is dominated by agriculture, with rolling hills and fertile farmland making up the interior and attractive plantations along the coast. The flat plains and the undulating pastoral landscapes of the interior are charming but hold little of interest for most visitors; the South Carolina coast is the true jewel of the state and boasts most of the attractions.
Miles of white sandy seashore stretch from the Grand Strand in the north to the mouth of the Savannah River in the south. The glitzy heart of the coast is the popular tourist resort of Myrtle Beach, which is famous for its family entertainment, amusement park attractions and recreational activities, especially golf. A string of resorts are dotted along the coast to historic Georgetown, sitting between the carnival atmosphere of Myrtle Beach and the old port grandeur of Charleston, one of the most elegant cities in the country. South of Charleston the coastline breaks up into small marshy islands that preserve traces of the Gullah culture. These Sea Islands are home to descendants of the West African slaves brought to the plantations who were given land when they were freed in 1865, and who speak a dialect known as Gullah that is unique to the African-Americans of the Sea Islands of South Carolina and Georgia.
South Carolina, nicknamed the 'palmetto state', has a rich history that is documented in the beautiful historic district of Charleston, Civil War sites, including Fort Sumter in Charleston harbour, and the restored plantation estates. In the 1800s the state depended heavily on slave labour to work the plantations, and as a result was the first state to secede from the Union and was a leader in the dispute over slavery.
Become our South Carolina Travel Expert
We are looking for contributors for our South Carolina travel guide. If you are a local, a regular traveller to South Carolina or a travel professional with time to contribute and answer occasional forum questions, please contact us.