Cities
Tasmania Travel Guide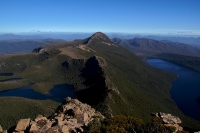 Mount Anne, Tasmania © Nomad Tales
Tasmania, the southern tip of Australian territory, is an island separated from the mainland by the Bass Strait. It is a place of wild and beautiful landscapes and friendly, relaxed people, with a temperate climate, rich history and a deliciously slow pace of life. There is no hustle and bustle here, even in the cities. No traffic jams and no smog. Encircled by the Southern Ocean, Tasman Sea and Bass Strait, the air is clean, the water pure and the soil fertile. More than one third of Tasmania is preserved in a network of national parks and the Tasmanian Wilderness World Heritage Area.
Although best known for its sublime landscapes and the many opportunities for bushwalking, kayaking, cycling and rafting, Tasmania - or 'Tassie' as it is affectionately known - is also celebrated for its gourmet food and wine, and some lovely arts and crafts, and the island now boasts sufficient urban sophistication to ensure a comfortable and culturally-rich visit. The island's European heritage goes back to the early 1800s, but Aboriginals first reached it about 40,000 years ago. This mixed heritage is reflected in Tasmania's culture and the locals tend to be fiercely proud and self-sufficient.
Become our Tasmania Travel Expert
We are looking for contributors for our Tasmania travel guide. If you are a local, a regular traveller to Tasmania or a travel professional with time to contribute and answer occasional forum questions, please contact us.