United States of America

---

---

---

---

---

---

---
Tennessee Travel Guide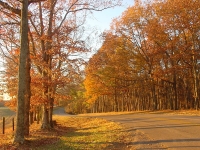 Tennessee © Wdwic Pictures
This relatively small, landlocked state is bounded on the west by the Mississippi River, the Appalachian Mountains to the east, and bordered in total by eight other states. The combined cultural and historical mix infused from its many southern neighbours that assisted Tennessee in becoming the central melting pot of musical styles, eventually coalescing into modern country, blues and rock 'n roll music, for which the state is now world-renowned.
Since the mid-1950s, Tennessee's main tourist attraction has been the legendary King of Rock 'n Roll, Elvis Presley. He may have died close to 30 years ago, but his soul goes marching on, drawing thousands of fans to his former home in Memphis, the state's largest city.
The State capital, Nashville, has a musical heritage second-to-none as well, being home to the Grand Ole Opry, the worldwide Mecca of country music.
Outside the main cities, long and lean Tennessee, which is only 480 miles (772km) long and 115 miles (185km) wide in total, offers a surprising number of wilderness areas and natural attractions, where the only music is the bubbling of mountain streams or the call of birdsong. In the eastern part of the state, a series of beautiful ridges and valleys rise up to the highest point of Clingman's Dome in the Great Smoky Mountains National Park, which Tennessee shares with North Carolina. The state is blessed throughout with a vast system of reservoirs, which offer 29 appealing lakes, filled with fish and offering water sports opportunities.
The state also contains many historic heritage trails, including the scenic 'Trail of Tears', starting just east of Chattanooga in the south and stretching for 260 miles (418km) through Tennessee before heading into Kentucky. Along this route 13,000 displaced Cherokee Indians were marched to Oklahoma, Tennessee, which was the centre of the western theatre of the Civil War and witnessed more battles than any other, also preserves and maintains numerous war sites, like Shiloh and Lookout Mountain.
Become our Tennessee Travel Expert
We are looking for contributors for our Tennessee travel guide. If you are a local, a regular traveller to Tennessee or a travel professional with time to contribute and answer occasional forum questions, please contact us.