United States of America

---

---

---

---

---

---

---
Regions
Texas Travel Guide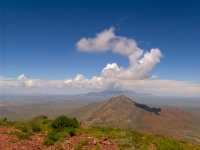 Texas © Brian Stansberry
Home to an estimated 16 million cattle, the vast and varied state of Texas, second largest state in the US, has plenty of people too in its half-dozen huge cities. It has often been said that everything is bigger and better in Texas, and visitors who have explored the state tend to agree.
Between its Gulf Coast in the southeast and the Red River boundary north of the Panhandle there are plains, rolling hills, lakes, soaring mountains, bogs, beaches and desert. In Texas' large cities like Dallas, Houston, Austin and San Antonio it is possible to swap the bright lights for a day at the ranch at the drop of a cowboy hat, or soak up culture at a world-class art gallery before taking a stroll through a scenic park. Outside the urban enclaves Texas has 23-million acres of woodlands, including four national forests and 125 state parks, from the great pine forests of the south and east to the rugged mountains of the west.
Most are aware that Texas is home to the largest oil industry in the US, but visitors are generally surprised to discover that the state has one of the country's biggest wine-growing regions too; that Austin is a musical Mecca; that Texas is leading the country in high-tech production; and that it is at the heart of a gourmet movement with some of the nation's finest restaurants within its borders.
Historically the Texas plains were the haunt of Native American tribes like the Comanches and Apaches. The Spanish put in an appearance in 1519 but only began settlements in 1690. In the ensuing centuries Texas became a conglomeration of settlements of various immigrant groups, becoming an independent republic for 10 years with its characteristic Lone Star flag, before acquiring statehood in 1845.
The word Texas is a corruption of a Native American term for 'friend', and the friendliness of the cosmopolitan Texan people is the cherry on the top for a state that has something to cater for everyone's interests, whether it be space flight or rodeo riding.
Become our Texas Travel Expert
We are looking for contributors for our Texas travel guide. If you are a local, a regular traveller to Texas or a travel professional with time to contribute and answer occasional forum questions, please contact us.