United States of America

---

---

---

---

---

---

---
Cities
Regions
Utah Travel Guide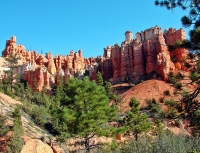 Mossy Cave Trail, Utah © Don Graham
A land of extremes, Utah holds a special appeal for outdoor enthusiasts, encompassing a wide variety of landscapes and fascinating geological formations that offer unlimited opportunities for outdoor recreation. Most of the state is situated on a plateau above 4,000ft (1,219m), but the elevations rise and fall spectacularly across snow-covered mountains and deep river canyons. The most significant sights and attractions have been formed by the dramatic forces of nature, creating ruggedly beautiful, multi-coloured canyons, eroded rock sculptures, red desert plains, forested mountains and snow-capped peaks. Southern Utah has five breath-taking national parks, including Zion and Bryce Canyon, which draw the most visitors, but the lesser-known parks are just as spectacular.
The Anglo settlement of Utah began with the arrival of the Mormon pioneers in the Salt Lake area in 1847, led by Brigham Young. Today, about 70 percent of the population belong to the Church of Jesus Christ of Latter-Day Saints, congregants of which are known as the Mormons. The Mormon heritage defines the state's modern culture and many perceive Utah as a region stuck in a time warp due to the strong church influence, emphasis on family values, and a notoriously strict attitude regarding the drinking of alcohol. But the people are friendly and unpretentious, the crime rate is low and there are many beautiful places of interest to visit.
Salt Lake City is a modern metropolis regarded as one of the top business environments in the country, as well as being the spiritual hub of the Mormon religion, home to the sacred Temple and the famous Mormon Tabernacle Choir. Its proximity to the Wasatch Mountains makes it a popular base for winter and summer outdoor recreation, and nearby resorts like Park City, Sundance and Snowbird offer superb powder snow and Olympic-class skiing.
Become our Utah Travel Expert
We are looking for contributors for our Utah travel guide. If you are a local, a regular traveller to Utah or a travel professional with time to contribute and answer occasional forum questions, please contact us.