Cities
Victoria Travel Guide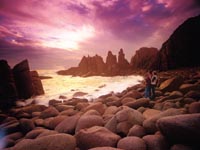 Pinnacles, Phillip Island © Victoria Tourism
Victoria is Australia's second-smallest state, covering an area roughly the size of the British Isles. It hugs the tip of Australia's east coast and has a decidedly clement climate. Packed into this relatively compact area is a wealth of diverse regional areas and attractions, from national parks and forests teeming with wildlife to wineries, lakes and mountains offering skiing, climbing and hiking. Best of all, many of Victoria's unique and varied landscapes are easily accessible as day trips from the state capital of Melbourne.
Become our Victoria Travel Expert
We are looking for contributors for our Victoria travel guide. If you are a local, a regular traveller to Victoria or a travel professional with time to contribute and answer occasional forum questions, please contact us.