United States of America

---

---

---

---

---

---

---
Cities
Washington DC Travel Guide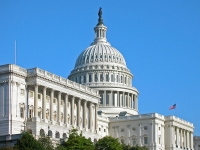 US Capitol, Washington DC © Matt H. Wade
Its location handpicked by George Washington for its position between the South and the North, Washington, D.C. is the patriotic and political heart of America. The capital, with its low-profile skyline, is a city of green parks and open spaces, grand buildings, historic landmarks, and marbled museums. Just beyond the celebrated monuments, are quirky neighbourhoods that support a thriving cultural scene with scores of top-notch restaurants, shops, and night time entertainment.
In 1791, shortly after the capital district was created after, French architect, Pierre L'Enfant, was commissioned to plan the town out of a wilderness. As he pegged out streets 150ft wide and one grand avenue 400ft wide and a mile long, the local landowners thought he'd gone mad: He was throwing away valuable land that could be used for farming! He's forward thinking paid off, L'Enfact's layout of the city can still be clearly seen and navigated logically.
After politics, tourism is the capital's main industry. The city plays host to millions of people annually who come to explore famous sights such as the domed US Capitol, the stately White House, the Lincoln Memorial, and the soaring Washington Monument. The most well-known sights are located along the National Mall, a green park stretching from the US Capitol to the Lincoln Memorial on the Potomac River, which includes several memorials to great US Presidents of the past, as well as the outstanding museums of the Smithsonian Institute. Almost all major attractions are free.
Besides political sights, Washington is also a city of unique neighbourhoods, each with its own character and culture. The most celebrated of these is historic Georgetown, with elegant colonial houses, boutiques, classy restaurants, and a lively nightlife. One of the most colourful neighbourhoods is the Bohemian district of Adams-Morgan with an assortment of funky shops and ethnic stores, while the arty suburb of Dupont Circle is an affluent business and residential area with excellent restaurants, art galleries, and shops that make up the centre of DC's gay community.
While it's possible to see all the sights of Washington that we've come to know from history in a day or two, it would take months to experience all the locals know and love.
Become our Washington DC Travel Expert
We are looking for contributors for our Washington DC travel guide. If you are a local, a regular traveller to Washington DC or a travel professional with time to contribute and answer occasional forum questions, please contact us.