United States of America

---

---

---

---

---

---

---
Cities
Regions
Seattle Port of Call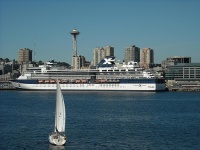 Space needle in Seattle © Yatharth
Tucked away in the Puget Sound, the water surrounded hills of Seattle have distinct vibrant districts blending rugged Pacific Northwest wilderness with a modern cosmopolitan city. The most popular attractions in Seattle are its defining skyline building the Space Needle and the most famous seaside market in the country and home of thrown fish, Pike Place Market.
Two downtown cruise terminals, Bell Street Pier number 66 and t?he Smith Cove Terminal on pier 91, welcome over 800,000 passengers a year on more than 200 ships, mostly starting on their voyage to Alaska. Pier 91 is north of the city centre near Magnolia Bridge and Pier 66 is directly downtown.
---
Contact
Tel: +1 206 461 5840
www.portseattle.org/seaport/cruise
visinfo@visitseattle.org
The tourist information centre is east of Pike's Place Market on Pike St.
Transport
Taxis from both terminals at the port are available as is a bus service from the Bell Street stop near Pier 66. Both terminals also have kiosks for rental cars. Walking to the city centre from Pier 66 is a short jaunt but difficult from Pier 91.
Attractions
The most well known attractions near the port is the towering Space Needle and shopping in Pikes Place Market. Paul Allen's ode to rock music, the Experience the Music Project wonderfully combines museum, concert hall and music laboratory. A great airplane and flight museum, Seattle Aquarium and the famous Seattle Arts Museum are all tourist hot spots. Improbably, so is the new downtown library.
Restaurants
Cascadia - Pacific Northwest seafood in a trendy setting.
94 Stewart - Pikes Place Market upmarket but fun atmosphere with a great view.
Chandler's Crabhouse - Name says it all with many different varieties of crab.
Best Dish
Baked Salmon
Shopping
The best tourist shopping in Seattle is in the many eclectic shops in Pike Place Market and the surrounding neighbourhood. Downtown Seattle has upscale shopping centres and a series of boutique stores. The Seattle areas of Freemont, University District and Capitol Hill all have many unique stores.
Best Buy
Smoked Salmon
Excursions
Ride the ferry to the Puget Sound Islands
Hike or bike Mt. Rainier
Go whale watching in the Islands
Tour the Boeing Factory
Go skiing in Snoqualmie
---
Become our Washington Travel Expert
We are looking for contributors for our Washington travel guide. If you are a local, a regular traveller to Washington or a travel professional with time to contribute and answer occasional forum questions, please contact us.