Regions
Yukon Territory Travel Guide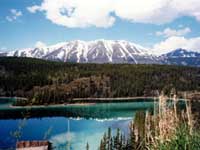 Yukon © Judith Duk
The territory of the Yukon, Canada's 'True North', is wintry, wild and wonderful: a spectacular wilderness consisting of comprehensive national and territorial parks filled with stunning landscapes and rare wildlife, like the 120,000-strong Porcupine Caribou herd that is protected in the Vuntut and Ivvavik National Parks. Black and grizzly bears, Dall sheep, moose, wolves and musk oxen are some of the other creatures spotted regularly all over the territory.
The Yukon Territory is in the extreme northwest of Canada, bordering Alaska. The sparsely-populated province carries the motto "Larger Than Life", and its tourism is focused around outdoor activities like fishing, canoeing, kayaking and hiking in the summer, and skiing, snowboarding, ice climbing, snowmobiling and dog sledding in the winter. The Yukon also has its own natural magical light show in winter: undulating ribbons of pale-green, pink and blue lights dance in the night sky as the Aurora Borealis phenomenon delights watchers. The province also boasts Canada's highest mountain, the majestic Mount Logan peak in Kluane Park, set in a sea of ice.
Although 80 percent of the Yukon is wilderness, there are people living there too. Native Yukoners are spirited, uniquely connected with their land, and have plenty of tales to tell travellers. Many legends survive from the days of the Klondike Gold Rush in 1897, when 30,000 aspirants arrived in Dawson City in hope of making their fortunes. The First Nations culture is also well preserved and fascinating to investigate in museums, historic sites and interpretive centres throughout the province.
Become our Yukon Territory Travel Expert
We are looking for contributors for our Yukon Territory travel guide. If you are a local, a regular traveller to Yukon Territory or a travel professional with time to contribute and answer occasional forum questions, please contact us.