United States of America

---

---

---

---

---

---

---
Cities
Louisiana Travel Guide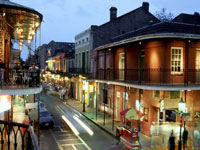 Bourbon Street, French Quarter © New Orleans CVB/Richard Nowitz
Lively Louisiana has reclaimed much of its former glory after the devastation caused by Hurricane Katrina on 30 August 2005. Visitors from around the world are once again flocking to New Orleans, not only to view the disaster areas and hear the stories, but to experience the city's traditional toe-tapping Dixieland jazz music, to dine on Cajun cuisine and enjoy the laid-back lifestyle where a carnival atmosphere prevails day and night.
Louisiana is hedonistic and historic, musical and memorable; the American state that feels European has a distinctive scenic beauty and a cultural uniqueness that makes it more than attractive as a holiday destination. It is the cultural variety in particular that gives Louisiana its special appeal, and this is the result of the legacy of the original Native Americans; the French, Spanish and Creole inhabitants of the major city of New Orleans; the Cajuns of South Louisiana; the African slaves and free blacks; the European plantation owners; and settlers of virtually every nationality that have made the State their home. Many of the locals will tell you they were just passing through for a few days, and now find Louisiana their home.
Louisiana's past is just as colourful and varied as its people. It has been governed under 10 different flags since 1541 when Hernando de Soto claimed the region for Spain. At the outbreak of the Civil War Louisiana even became an independent republic for six weeks, before joining the Confederacy. Louisiana was actually sold to the United States by Napoleon in 1803, the purchase being negotiated by President Thomas Jefferson. The reason for all this chopping and changing was because of the region's importance for trade and security in the American mid-west; the mighty Mississippi River flows through Louisiana and access to the mouth is controlled by the city of New Orleans.
Further along the Mississippi visitors marvel at the stately plantation houses of Louisiana's rich landowners of old, and enjoy tasting the sights and sounds of the Mississippi valley, which is one of the most scenic areas in the United States. Just like the renowned Creole dish known as 'gumbo', the State of Louisiana contains a bit of everything.
Become our Louisiana Travel Expert
We are looking for contributors for our Louisiana travel guide. If you are a local, a regular traveller to Louisiana or a travel professional with time to contribute and answer occasional forum questions, please contact us.