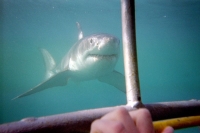 Diving with great white sharks is the experience of a lifetime. Numerous tour operators run cage diving trips around Gansbaai (two hours from Cape Town), where the open stretch of water between Dyer Island and the mainland is referred to as the shark diving capital of the world.
Boat trips aim to educate people about the great white shark, and to provide an up close and personal encounter from within the safety of a cage lowered into the water. People can also watch and photograph sharks feeding at the surface alongside the boat.
Those brave enough can then take turns inside the cage, which is let down about three feet (1m) below the surface of the water. Great white sharks are in Gansbaai all year round, but the highest densities occur during the winter months from May to October.
The jury is out over the conservational impact of shark cage diving and whether the practice increases the likelihood of shark attacks due to the association of food with people. Travellers wanting to try out this exhilarating activity should be careful to do so with a well-known tour operator with plenty of experience.