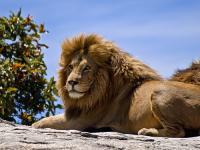 Tanzania boasts outstanding opportunities for viewing wildlife in its natural habitat and offers some of the finest game viewing on the continent. A vast amount of the country is protected within parks and reserves, and of these the vast open plains of the Serengeti, famous for the annual migration of millions of animals, is the most well known. Africa's Eden, the unique Ngorongoro Crater, is another popular safari destination.
The word 'safari' actually has its origins in Tanzania, which should give travellers some idea of the region's game viewing prestige. Safari is a Swahili word meaning 'journey', and there are unlimited safari options in Tanzania that can be tailor-made by any number of capable and well-established tour operators, with accommodation ranging from luxury lodges to simple camping. A journey by vehicle, foot, horseback or hot air balloon into prime game-viewing country is an experience not to be missed.
The best time of year to go on safari in Tanzania is generally between June and October, during the dry season, but there is some variation depending on region and desired activities. The Great Migration is best viewed in June and July in the Serengeti, but this famous national park is also special in January and February, when it is calving season. The southern and western parks are at their best between June and October. The wet season in April and May is best avoided, as road travel can become difficult and game viewing can be compromised.