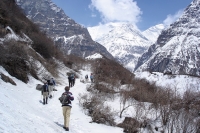 Trekking is the most popular activity in Nepal and is the best way to experience the Himalayas. Most treks follow well-trodden foot trails that have been in use for hundreds of years, connecting mountain villages and hamlets.
Popular treks include the Annapurna Circuit and the hike from Lukla to the Mount Everest base camp, while more serious mountaineers might attempt an expedition to some of the highest peaks in the world, including Mount Everest itself.
'Teahouse treks' follow the most popular trekking routes in the entire Annapurna region, Langtang area, and the Everest region. It allows walkers to make their own way from village to village, carrying minimal equipment and relying on teahouses for food and accommodation.
The settlements along well-known routes, of which there are many, are generally well equipped to accommodate visitors. It is also possible to hire a guide or porters for these expeditions. Organised, all-inclusive treks include porters, guides, cooks, tents, equipment, and transport.
Permits are required for some areas and for national parks, but many routes can be hiked for free. Although trekkers are usually safe if they stick to popular routes, there have been some incidents of armed robbery and bribes on trails in Nepal and it is best to walk in groups.