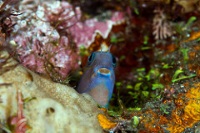 Travelling to Bali promises many joys, but Bali's dive sites are in a class of their own. With deep drop-offs, steep banks, coral ridges and a world famous wreck, these waters are home to a great wealth of ecological, geological and historic sights, framed by a coast dotted with volcanoes and rice paddies. The most popular dive destinations around this island are Nusa Penida, Tulamben, Amuk Bay and Menjangan. The famous wreck of the USAT Liberty is located just outside of the village of Tulamben and is one of the world's most celebrated wreck dives, making it an obvious favourite among divers visiting Bali.
Bali, however, is just the tip of the iceberg when it comes to dream scuba spots in Indonesia. Raja Ampat, an underwater wonderland off the northwest tip of Papua, is celebrated as one of the world's best dive spots. With over 1000 species of sealife to explore, it could easily be the only destination visited on any Indonesian diving odyssey. The beautiful Togian Islands near Sulawesi, the Komodo Islands with its rich coral life, as well as Lombok and its crystal waters, are just a few of the many sought after scuba sites on offer in the region promising memorable diving experiences.
There is also an array of extraordinary local marine life on offer, including mola mola (sunfish), hairy frogfish and pygmy seahorses, while more 'usual' sightings include reef sharks, blue spotted stingrays, turtles and parrotfish. Visibility can be anywhere between six and 45 metres, and current strengths also vary substantially from one dive site to another. The best diving months are considered to be from April to December, when the water is at its most comfortable temperature.
There are various locally based dive operators and resorts offering everything from beginner snorkelling to dive excursions, as well as full scuba diving courses. Visitors may use their own kit or rent equipment from the operator or resort. All divers must carry valid scuba certification. For those interested in underwater photography the dive centre in Tulamben hosts courses.