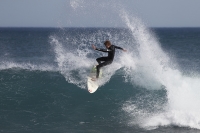 With no shortage of waves, warm waters, consistent breaks and a glowing reputation, the east coast region is the hub of Australia's surfing scene and the best place to hunt for waves. The only downside is that these waters tend to be overcrowded, but that is the price for popularity.
Victoria is a surfer's dream paradise with world-renowned Bells Beach, the point break of which, called the Bowl, is a must. Other popular breaks include Southside, Centreside, Rincon, Boobs and the popular location of Winki Pop, known to work better under more diverse conditions than other nearby waves.
Superbank stretches from Snapper Rocks Point on the border of Queensland and New South Wales, through Rainbow Beach, the old Greenmount Headland, Coolangatta Beach, and Kirra, for around three miles (5km) and is a recognised and well-frequented break. Curl Curl, colloquially known as Curly, is renowned for some of the best surfing in New South Wales, together with the popular and overcrowded Bondi Beach and Avalon Beach.
Western Australia offers Margaret River, the place where four times world champion Mark Richards experienced his first junior win in 1973, and close by is the notorious exposed right-hand reef break, The Box. Heavy, but amazing, this is the most consistent break on the west coast and works best with easterly offshore winds with southwest swell. At Gnaraloo, Tombstones is a heavy barrelling left-hander that is best surfed from August through February and definitely not for the faint-hearted.
The southwest coast has some excellent offerings with fewer surfers to contend with, although the waves are heavy and the water cold and sharky, while Shipsterns and Clifton Beach just off the coast of Tasmania also boast some fun but gnarly waves.
Dedicated surfers should take a road trip to discover the many secret spots found along this vast stretch of coastline while beginners can enjoy an unforgettable surf experience at one of the many highly rated surf schools.