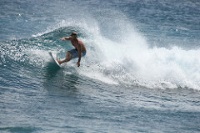 A surfer's playground made up of thousands of islands, with some of the best and most consistent breaks in the world, the surfing in Indonesia brings passionate surfers to its shores in droves. In fact, the country tops the bucket list of many surfers worldwide, and for very good reason.
The best time to surf Indonesia is between April and September when the trade winds blow. Finding a break with offshore conditions is easy since there are waves facing almost every direction. The early and late seasons (March to May and October to November) are great for a more mellow surf and there are more opportunities for inexperienced surfers as the waves are less crowded. Hiring a boat to get to waves is cheap and easy and a popular option with many locals more than happy to help.
Since there are no surf shops on the smaller islands, and the ones in Bali are known to be overpriced, surfers should aim to bring everything they think they'll need, including plenty of sunblock, a rashie vest, extra leashes and a couple of spare boards of varying size for different conditions. Bali offers plenty of rentals, surf schools and camps along its shores for beginners, with Kuta Bali being one of the best places for amateurs to learn to surf.
Bali's key spots include Uluwatu, Dreamland, Bingin, Pedang Pedang and the ever-popular Kuta Bali. A novel and thrilling experience is to surf Airport Rights in Jimbaran Bay, and Airport Lefts on the Kuta side of Bali. Surfers can enjoy getting barrelled as passenger planes overhead come close to skimming the water's surface while coming in to land at Bali's nearby Ngurah Rai Airport.
The East Nusa Tenggara and Nusa Lembongan regions of Indonesia offer some really good surfing opportunities with islands such as Lombok and Sumbawa providing plenty of gnarly waves. Lakey peak, Scar Reef, Yo-yo's and Supersucks are key breaks on Sumbawa. Kuta Lombok boasts waves such as Grupuk, Ekas, Mawi and the infamous and still quite isolated Desert Point, widely regarded as one of the heaviest and best left-hand barrels in the world. Surf this wave just after a full or new moon when high tide is at midday.
Surfers looking for hollow, deep waves can't go wrong visiting Nias in northern Sumatra, which boasts Lagundra Bay, one of the best right-handers in Indonesia. The neighbouring Mentawais islands have also become well-known surfing destinations and are definitely worth a visit, but these are only accessible by package boat tours, which can be quite pricey.