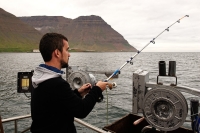 Iceland is said to be home to the best salmon fishing in the world, with over 100 runs, almost a quarter of which are first-class fishing holes. While sea fishing remains mostly the domain of commercial fishermen, tourists will find equally prosperous waters inland. The island is pocketed with lakes which make for great trout fishing and more well-rounded family vacations. Some of the best and most scenic lakes are in the highlands. However, aficionados will want to head to the rivers, fly rod in tow.
Almost all fishing rivers can be driven to but it's best to arrange things through a tour operator, or travel with a guide who can also arrange fishing permits, a suitable vehicle and nearby lodging. The best salmon rivers all have impossible to pronounce names, such as Breiddalsa and Hrutafjardara making it tough to ask for directions.
All of Iceland's rivers are very well regulated so limited rods are allowed on the same river at any one time. It is wise to arrange with a guide well in advance of the visit to assure a spot. Salmon season is June to September and trout season is June to October. Ice fishing in the winter is also an option to get the ones that got away in summer; leave the waders and bring a jacket.