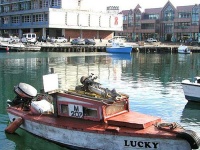 Cruise ships are a luxurious way to relax in Barbados, travel through the region and enjoy beautiful views. Various eastern-Caribbean voyages either board and disembark on the island, or feature it as one of their main ports of call.
Most ships dock at the deep water harbour near Bridgetown, on the island's south-west corner. The port offers many duty free shops, and Bridgetown is easily accessible by taxi or shuttle. Once in Barbados, holidaymakers will find a wealth of attractions and activities, as well as stunning beaches.
Year-round great weather makes Barbados a superb cruise destination. Packages and specials are available throughout the year, ensuring that travellers can, at any time, pack their sunglasses and set sail.