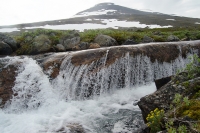 River rafting is a popular adventure activity in Norway, offering both challenging white water routes for experienced paddlers and easier rapids for fun family trips. The range of mild to wild should mean that there is something for everybody. Some of the rafting trips will have age and fitness restrictions but many others are suitable for all.
The spectacular landscapes of the fjords, mountains, and glaciers make rafting in Norway extremely scenic as well as thrilling. The Sjoa in Innlandet is the most popular river in Norway for commercial rafting trips and considered one of the best rivers for rafting in Europe. Other great options include the Jostedøla in Sognefjord, the Jølstra River in Sunnfjord, the Trysilelva River in Innlandet, and a number of rivers in Setesdalen and Voss.
There are several good rafting and kayaking companies to choose from and some of the most reputable are listed on Norway's official tourism site. The companies provide safety equipment like life vests and helmets, as well as all necessary equipment for the actual rafting. But it's a good idea to check what kind of clothes the operators advise you to wear depending on the trip and the season.