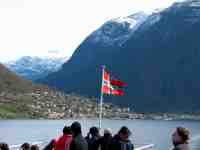 A network of dramatic and beautiful fjords honeycomb the coastline of Norway. For many travellers, a fjord cruise is the most iconic tourist experience the country has to offer. The fjords provide access to many of Norway's top tourist attractions and the scenery is some of the most breathtaking in the world.
There are many different kinds of fjord cruises on offer all along the coast and from the innermost fjord ports of Norway. But the most popular departure point for cruises, and the so-called gateway to the fjords, is the port city of Bergen. From Bergen, which is easily accessible through an international airport, many travellers like to hop on board working ships heading up to Kirkenes in the far northeast of Norway.
These ships carry cargo and passengers and stop at about 34 ports over the 12-day journey, making incursions into a number of fjords along the way. This route is a good option for those wanting to tour the coastline and travel into the Arctic Circle, where it is possible to see the Northern Lights between September and March.
Those looking for more conventional cruises tailor-made for tourists, with sightseeing and activities on offer, should consider a cruise from Bergen to Skjolden, all along Sognefjord, which is Norway's largest fjord and the longest navigable fjord in the world. Skjolden is the country's innermost cruise port and many of Norway's greatest attractions can be found along this spectacular route.