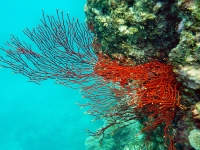 The Great Barrier Reef off the Queensland coast is the most magnificent marine wilderness and natural reserve in the world, and as such draws divers and snorkellers by the multitude. Jumping off point for those coming to explore the Reef is the city of Cairns. As it is a vast area (the reef is approximately 1.2 miles/2,000km long) visitors need to choose their destination carefully and plan well. The northern reef section runs from Papua New Guinea to Townsville and is not so frequented by tourists. There are some resort islands, but only a few charter boats cover the area and these usually only on multi-day excursions. Most visitors find the most charter and tour options operate between Port Douglas and Townsville, where a multitude of operators offer day trips. All operators are strictly monitored and have to abide by rules and regulations to ensure diving in this region is safe.
Although Queensland boasts many of the best diving sites, New South Wales also promises travellers several good dive destinations, most notably Byron Bay and Jervis Bay. Victoria, South Australia, Western Australia, Tasmania and the Northern Territory also have a lot to offer scuba divers and snorkellers.
Australia is a year-round diving destination, but the water is warmer between September and April, making this the most popular time to explore underwater.