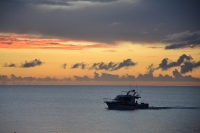 Fijians have a long history of navigating the Pacific and, today, sailing is a popular holiday activity around the islands. Sailing around Fiji makes it easy to visit traditional villages, journey to hidden waterfalls and scout out island hideaways. It is the ideal way to enjoy the Pacific Ocean and explore the destination at leisure, whether by yacht, catamaran or on small boats. For travellers who want an authentic holiday in Fiji, the Lau Islands are one of the few places where the locals still do traditional sailing.
Visitors can eat, drink and relax on tranquil cruises while the sun rises or sets on the horizon. Some cruises offer stops at private islands and luxury cruises are available for exclusive experiences. Many excursions will include opportunities for deep-sea fishing, diving and snorkelling as well as water sports before, during or after the cruise.
Some of the best places to visit among Fiji's islands include the Mamanuca archipelago, the Yasawa Islands and the Nadi Tivua.
The official cyclone season occurs from November to April, and it is safest to sail outside of these months.