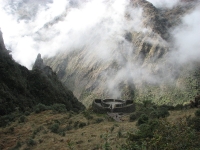 The world-famous Inca Trail is the toast of South America's hikes. Constructed as a royal road to the citadel of Machu Picchu, the dramatic, stone-paved walk ventures deep into cloud forests, and climbs the mountains to the sky.
The beautiful but arduous four-day trail is part of the Machu Picchu Historic Sanctuary, and a World Heritage Natural and Cultural Site. Hikers who begin it will cross over three high-altitude mountain passes, and see scattered Inca ruins on their way to the citadel. The region's forests, exotic vegetation and breath-taking mountain views are ever-present companions. Ultimately, the ancient royal route reaches the stone Sun Gate, from where Machu Picchu becomes visible. Huayna Picchu's looming peak dominates the background.
Regarding access, travellers must arrange their hikes through an official Inca Trail tour agency, and go as part of an organised group. Independent trekking is prohibited. The number of hikers permitted on the trail at any time is limited, and all parties will require permits. Travellers should book permits long in advance to avoid disappointment.
Otherwise, visitors should remember that the trail is steep, and that the high-altitude makes it especially challenging.