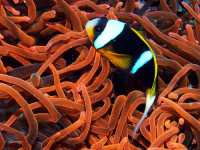 Zanzibar offers an excellent combination of shallow water reefs around the surrounding offshore islands, which are ideal for beginners, and high walls, deep channels and shipwrecks for the more experienced. The best and most varied diving can be found along the northeastern coast around Mnemba Island, where visitors can explore beautiful coral gardens and wall dives. Stone Town has some interesting nearby wrecks and well-preserved coral reefs. Mafia Island, just south of Zanzibar and also part of the Spice Islands and Tanzania, is also a great scuba diving destination.
Scuba diving is possible in this region all year round, thanks to the warm weather and warm water. The most popular seasons for diving are between July and September and December and January, but this has more to do with popular tourist seasons than dive conditions. Other good times to dive are in February and March, when animal life is plentiful, and in October, when the ocean is at its calmest. Around March the giant but gentle whale sharks stop here on their migration, and meeting these majestic creatures often proves to be the highlight of a dive. Serious scuba divers should perhaps avoid April and May, as this is the rainy season and visibility is reduced.
Zanzibar is a comparatively safe and comfortable diving destination, as it has gentle currents, warm water and good visibility most of the year. There are dive schools affiliated to many big hotels in Zanzibar, and they are numerous in Stone Town and Matemwe, making arranging a dive and getting equipment easy.