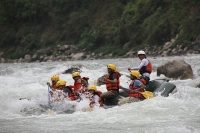 From the heights of the Himalayas, rivers surge down the foothills and across the plains of Nepal and enable some of the most scenic, exciting, and challenging white water rafting experiences in the world.
The rivers present a variety of rafting opportunities suiting different experience levels. Rafting companies typically offer different types of trips, from gentle drifts ideal for families, grade two to three rapids for first timers, or world-class raging white water for brave and experienced veterans.
Rafters can also choose to do some paddling or kayaking and can find a trip to suit their needs, from two-day excursions to two-week trips that usually involve some trekking. Kayak clinics are also available on the Seti River.
The most popular white water rafting trip from Pokhara is on the Kali Gandaki River with extreme rapids (grade 5 to 5+) and impressive scenery, as the river winds its way through canyons and deep gorges.
Those looking for multiday adventures should tackle the Marsyandi River (four days), the Sun Koshi River (seven to nine days), the Arun River (nine days), the Karnali River (10 days), or the Tamur River (11 days). Rafters will spend nights camping on the riverbanks, witnessing some of Nepal's most awe-inspiring scenery while on the water.