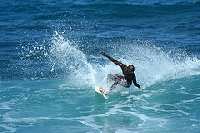 Surfing is king in Barbados. Indeed, the island's coral-reef coastline, strong, constant trade winds and year-round swell create the Caribbean's most consistent surf conditions.
Serious surfers should visit the Soup Bowl, which is home to the island's biggest and most powerful waves. Located along the east coast, the spot is internationally renowned and regularly hosts competitions.
Lessons and surfboard rentals are available for beginners. More experienced surfers can look into booking tours.