Leeds Castle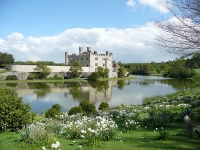 Leeds Castle © Adusha
Set above a lake in a picturesque valley near the town of Maidstone in Kent, with imposing battlements and a 500-hectare Tudor garden, Leeds Castle proudly describes itself as 'the loveliest castle in the world'. Once a residence of British Queens and a playground for King Henry VIII, it has been open to the public for over 35 years, revealing the majesty of a bygone age. With so much to explore, Leeds Castle requires a full day for visitors to tour the castle, get lost in the garden maze, and dine in one of the excellent restaurants or quaint tea rooms. A highly recommended day-trip for visitors to the UK.
Address: Maidstone, Kent
Website: www.leeds-castle.com
Transport: Coach, bus or train from London
Opening times: 10.30am to 6pm daily, last admission at 4.30pm (April to September); 10.30am to 5pm daily, last admission at 3pm (October to March).
Admission: £24 (adults), £16 (children 4-15). Concessions are available, check the website for details.