Hampton Court Palace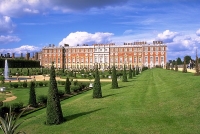 Hampton Court Palace © Andreas Tille
Situated on the banks of the River Thames, 14 miles (23km) southwest of London, Hampton Court is perhaps the most spectacular royal palace in England, and makes a wonderful day-trip destination from the capital. The palace was built by Cardinal Wolsey in the early 1500s, but later it became King Henry VIII's principal residence and remained the centre of royal and political life in England until 1737. Visitors can see King Henry VIII's Great Hall; King William III's State Apartments, designed by Wren and completed in 1700; and the unmissable Tudor Kitchens, which remain largely unchanged since the 16th century and were no doubt once used to cater for raucous banquets. There is also a fun and exciting 'Ghost Family Trail' tour through the palace that will delight younger visitors. However, Hampton Court is still probably most famous for its grounds and their outstanding hedge maze - called 'the most famous Maze in the history of the world, and immeasurably the one most visited' by Ernest Law - which has entertained children since it was planted in 1705.
Address: East Molesey, Surrey
Website: www.hrp.org.uk/HamptonCourtPalace
Telephone: +44 20 3166 6000
Transport: Train from Waterloo (35 minutes), or public bus routes 111, 216, 411, 461, R68, 267, and 513. For a more scenic ride, take a river boat along the Thames from Westminster, Richmond or Kingston
Opening times: Opening times vary season to season; check the official website for details.
Admission: £18.20 (adults), £9.10 (children under 16). Concessions and family tickets are available, check the website for details.