Edo-Tokyo Museum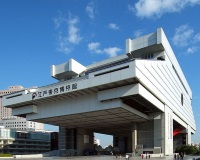 The Edo-Tokyo Museum © Wiiii
This museum is dedicated to detailing Tokyo's history, culture and architecture. Edo was the old name for Tokyo when the country came under the rule of the warlord, Tokugawa Ieyasu. Exhibits include a replica of an ancient Kabuki theatre, maps, photographs, and portrayals of the lives of the city's merchants, craftsmen and townspeople in days gone by. There are numerous interactive exhibits and many intricate models with such wonderful detail that binoculars are provided for visitors to better appreciate them. Traditional performances are held in the recreated theatre, which is not the only historic building to be recreated life-size.
Address: 1-4-1 Yokoami, Sumida-ku
Website: www.edo-tokyo-museum.or.jp
Opening times: 9.30am—5.30pm. Saturdays: 9.30am —7.30pm. Closed on Mondays.
Admission: JPY 600