Senso-ji Temple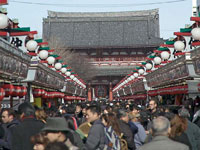 Senso-ji Temple © Fg2
The Asakusa neighbourhood in Tokyo draws visitors to admire the city's oldest temple, Senso-ji, founded in 628. The story goes that two brothers fishing in the nearby river netted a golden image of Kannon, the Buddhist goddess of mercy, and the statue kept turning up in their nets no matter how many times they threw it back. The brothers were inspired to enshrine it in a temple dedicated to the deity. The statuette is still inside, but never shown to the public, though pilgrims flock here every day seeking the favour of the goddess. For many visitors, the temple is one of the highlights of a visit to Tokyo, while the nearby Demboin Garden is a good spot to relax.
Address: 2-3-1 Asakusa Taito-ku, Shitamachi (downtown)
Opening times: Main Hall: 6am to 5pm (from 6.30am between October and March). Temple grounds are always open.