Bellagio Hotel and Casino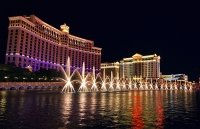 Bellagio Fountains © Photographersnature
The Bellagio is one of Las Vegas's most opulent hotels and most popular casinos. With an Italian theme, the great bulk of the Bellagio sits in its own vast garden. It has more than 3,000 rooms and hundreds of slot machines and gaming tables. However, its best-known attraction is its amazing water show - a breath-taking union of water, music, and light. Between 3pm and midnight (from 12pm on weekends) the Bellagio's world-famous fountains 'dance' to opera, classical, or whimsical music with carefully choreographed movements. Beyond the Bellagio's gracious lobby lies the Conservatory & Botanical Gardens, a magnificent garden abounding in fragrance, texture, and colour. The hotel also has a new fine arts gallery that hosts contemporary art exhibits.
Address: 3600 S. Las Vegas Boulevard
Website: www.bellagio.com
Telephone: (888) 987 6667
Admission: Entry to the hotel and casino is free.