Fremont Street Experience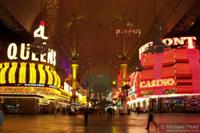 Fremont Street © Michael Pead
The downtown area of Las Vegas is where it all began and the Fremont Street Experience aims to celebrate this heritage. The street is also known as 'Glitter Gulch' for the bright neon signs and thousands of flashing lights that line the streets - this is where you'll find Vegas Vic and Sassy Sal, two of the nation's best-known neon icons. Some of the city's most famous vintage casinos are found here, including the Golden Nugget and the Gold Spike, as are most of its strip clubs and stage shows. Most entertainment is on or close by the Freemont Street Experience Mall. The Fremont Street Experience encompasses the iconic Vegas experience, giving people exactly what they expect when they think of the glitzy casino city.
Address: 425 Fremont Street, Downtown Las Vegas
E-mail: contact@vegasexperience.com
Website: www.vegasexperience.com
Telephone: (702) 678 5600
Opening times: Open 24 hours 7 days a week.