Red Rock Canyon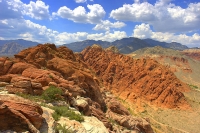 Calico Basin, Red Rock © Fred Morledge
Red Rock Canyon is a dramatic valley 10 miles (16km) west of Las Vegas, and is a good excursion to escape the neon lights of the slot machines. Its defining feature is the steep Red Rock escarpment, which rises 3,000 feet (914m) on its western edge. Today, the dramatic landscape is peppered with cacti and Joshua trees and is a good spot for walking, rock climbing, cycling, or simply a scenic drive. The Mojave Desert is not as barren as you might think; it teems with rare life and beauty - waterfalls cascade into the canyons and high above red tailed hawks search for their next meal. For a taste of Nevada's natural beauty there is no better place to explore.
Address: State Highway 159
Website: www.redrockcanyonlv.org
Telephone: (702) 515 5350
Transport: The park has a 13-mile (21km) scenic drive. Coach tours can be organised through most hotels.