Atlanta History Center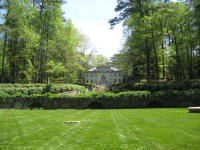 The Swan House © Hellohowareyoudoing
Explore the 13 hectares (33 acres) of beautiful gardens, award-winning exhibitions, and interactive activities at the Atlanta History Center.
The main attractions are two historic homes, open to the public offering informative guided tours. The Tullie Smith House originally stood outside the city limits but has been relocated to the History Center. The house was built in the 1840s and survived the near-total destruction of Atlanta in 1864 when General William Sherman burned almost two thirds of the city during his infamous 'March to the Sea'. The farmhouse is typical of most in Georgia at the time, despite popular belief that not all Georgians owned large plantations and mansions.
The Swan House, built in 1928, is a grand Italianate mansion that is an Atlanta landmark, once the home of Edward and Emily Inman, heirs to a cotton brokerage fortune. The History Center also features several other historic buildings and exhibitions.
Address: 130 West Paces Ferry Road
Website: www.atlantahistorycenter.com
Telephone: (404) 814 4000
Opening times: Museum: Monday to Saturday 10am-5.30pm, Sunday 12pm-5.30pm. Tullie Smith House and Swan House Tours: Monday to Saturday 11am-4pm, Sunday 1pm-4pm.
Admission: $16.50 adults, $11 children 4-12 years. Other concessions are available, and discounted tickets are available through the website.