Martin Luther King Jr National Historic Site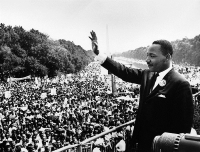 Martin Luther King Jr. © Public Domain
Venture through the Victorian house where Martin Luther King Jr was born in 1929. Here visitors can see where America's Nobel prize-winning Civil Rights leader grew up and where the movement was birthed. A half-mile stretch of Auburn Avenue, including King's birth home, the Ebenezer Baptist Church where he preached, and the memorial tomb at the King Center, has been made designated a historic site, drawing hundreds of visitors every day. The exhibits contained within provide insight into the life and times of this much-revered man. Tours are conducted every 30 minutes on a first-come first-serve basis.
Address: 450 Auburn Avenue NE
Website: www.nps.gov/malu
Telephone: (404) 331 5190 or 331 6922 for recorded information
Transport: Auburn Avenue bus 3 at the MARTA Five Points station, or MARTA's Atlanta Tourist Loop.
Opening times: Daily 9am-5pm (until 6pm from mid-June to mid-August).
Admission: Free