Kennesaw Mountain Battlefield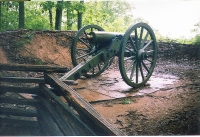 Kennesaw Mountain © Mikereichold
Kennesaw Mountain was the scene of a bloody Civil War battle, where in 1864, General Sherman led his Union forces against the entrenched Confederate forces at the site. This resulted in the death of more than 67,000 soldiers. The park now consists of several thousand acres of protected land, covered with more than 17 miles (27km) of interpretive walking trails. The trails contain historic earthworks and cannon placements, where markers and memorials have been placed to commemorate the event. A small museum at the site displays Civil War artefacts, and a visitor's centre provides information about the battle on the site. This popular park is visited by more than a million people each year, many of whom come to picnic and enjoy the views that the mountain has over Atlanta.
Website: www.nps.gov/kemo
Telephone: (770) 427 4686
Opening times: Daily 6.30am-8pm.
Admission: Free, but on weekends there is a fare of $3 (adults) and $1.50 (children 6-11) to ride the shuttle bus to the top of the mountain.